A man who some might say was St Lucia's best legal mind passed on over the weekend. The nation has received news that Sir Vincent Floissac died on Saturday September 25. The legal fraternity has planned a special sitting for this Thursday to pay tribute to Sir Vincent.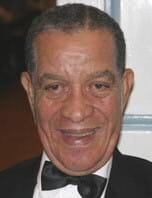 Meanwhile, messages from those who knew and respected Sir Vincent have been coming in to the STAR, including this message of the office of the opposition:
'The Political Leader, officers and members of the Central Executive, officers of Constituency Groups, members, supporters and well wishers of the Saint Lucia Labour Party note, with sadness, the death of one of its illustrious sons, The Right Honourable Sir Vincent Floissac PC, CMG, QC, LL.M (Lond.) on Saturday 25th September 2010.
Sir Vincent served this country with distinction. This country owes him a debt of gratitude for his service as a leading Legal Practitioner in private practice in Saint Lucia, President of the Senate, Acting Governor General, Chief Justice of the Eastern Caribbean Supreme Court, and member of the Judicial Committee of the Privy Council. His legacy in promoting and advancing the quality of jurisprudence of Saint Lucia and the Caribbean is well established. He achieved the highest heights of a career in his chosen profession of law and Saint Lucia was the beneficiary of that achievement.
In his non-professional life, he was an avid sportsman who demonstrated considerable skill and talent in football, tennis and golf. In those fields, he readily gave of his services to the organisations connected with these sports.
To his immediate family, we send our condolences. Our prayers are with you at this time of national grief. We trust that his soul, by the mercy of God, may rest in eternal peace.'