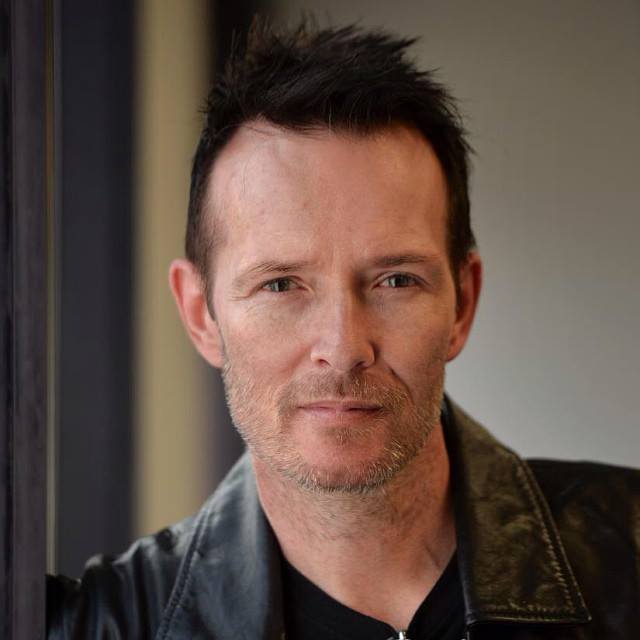 Scott Weiland, best known as the lead singer for Stone Temple Pilots and Velvet Revolver, passed away in his sleep while on a tour stop in Bloomington, Minnesota, with his band The Wildabouts. At this time we ask that the privacy of Scott's family be respected.
Scott Weiland's tour bus bedroom contained a small amount of cocaine, according to Bloomington, Minnesota police. Authorities also arrested Wildabouts bassist Tommy Black for suspected possession of cocaine.
Scott Weiland, the instantly recognizable voice behind Stone Temple Pilots and Velvet Revolver known for his dynamic stage presence, has died. He was 48. Weiland's manager confirmed the news to Rolling Stone, but declined to confirm a cause of death.
Weiland passed away in his sleep on a tour stop in Bloomington, Minnesota, according to an official Instagram post. In addition to sharing the news of his death, it read, "At this time we ask that the privacy of Scott's family be respected."
TMZ reported that Weiland was found dead on his tour bus in Minnesota at around 9 p.m. Thursday night while touring with his current group the Wildabouts. The group was scheduled to perform at the Medina Entertainment Center in Medina, Minnesota Thursday night.
Jane's Addiction guitarist Dave Navarro announced the news of Weiland's passing in a since-deleted tweet shortly after midnight EST. "Just learned our friend Scott Weiland has died," he wrote. "So gutted, I am thinking of his family tonight."
"We are deeply saddened to learn of the loss of our old friend and bandmate, Scott Weiland," Velvet Revolver posted on member Duff McKagan's Facebook. "We experienced a good chunk of life with Scott, and even in his darkest times, we all had hope and love for him. His artistry will live on, of that, there is no doubt. Deepest condolences and sadness are for his children, Noah and Lucy. We all travelled around this world together on tour; our band, wives, and kids … and we grew to a big family that still remains to this day. It's just so sad and brutal from any perspective."
Weiland was born Scott Richard Kline on October 27th, 1967 in San Jose, California. His mother, Sharon Williams, and father, Kent Kline, divorced two years later. His stepfather, Dave Weiland, adopted him at age five. He moved with his family to Ohio for a number of years and returned to California with his family when he was 14.
He formed his first band at age 16 and, in the late Eighties, STP's lineup came together with Dean DeLeo on guitar, his brother Robert on bass and drummer Eric Kretz. After performing under the name Mighty Joe Young, the group changed their name to Stone Temple Pilots before the release of their 1992 debut, Core.
Success came quickly to the San Diego band upon its release. Stone Temple Pilots mixed brooding hard-rock with Weiland's powerful, husky baritone in a way that struck a chord with the grunge generation. The shambolic, muted tones of their breakthrough single "Plush" earned them unwanted comparisons to Pearl Jam but also scored them a Grammy and Best New Artist VMA in 1994.
The record, which reached Number Three on the chart and has been certified eight-times platinum, also serves as home to many of the group's signature tunes, including "Sex Type Thing," "Wicked Garden," "Dead & Bloated" and "Creep." Their follow-up album, Purple, was just as big, reaching Number One on the charts and selling more than 6 million copies, thanks to hits like "Vasoline," "Big Empty," "Unglued" and "Interstate Love Song."
The band put out three more records, all of which charted in the Top 10 and spawning hits like "Big Bang Baby" and "Sour Girl," before they disbanded in 2002. They regrouped in 2008, issuing the Stone Temple Pilots album in 2010, before firing Weiland in 2013 and replacing him with Linkin Park singer Chester Bennington.
Between STP stints, Weiland fronted Velvet Revolver, a group which, in addition to Kushner, featured former Guns N' Roses members Slash, Duff McKagan and Matt Sorum. The hard rockers' 2004 debut, Contraband, hit Number One on the Billboard 200 and was certified double-platinum on the strength of the serpentine, bluesy single "Slither," which won them a Grammy, and power ballad "Fall to Pieces." Both singles went gold. Their second album, 2007's Libertad, debuted at Number Five and contained the urgent hit "She Builds Quick Machines." Weiland left the group in 2008 to rejoin his prior band, with Velvet Revolver briefly reuniting in 2012 for a one-off concert.
The singer also put out four solo albums, beginning with 1998's 12 Bar Blues, on which he experimented with singer-songwriter forms and elements of electronic rhythms, while still in Stone Temple Pilots. The record reached Number 48 on the Billboard 200 and contained the alternative-rock hits "Barbarella" and "Lady, Your Roof Brings Me Down." The more focused "Happy" in Galoshes followed in 2008 with the alt-rock radio hit "Missing Cleveland." He put out two records in 2011: the Christmas record The Most Wonderful Time of the Year and the self-explanatory A Compilation of Scott Weiland Cover Songs, on which he sang tunes by Nirvana, Depeche Mode and David Bowie, among others. His most recent and only release with the Wildabouts, Blaster, came out earlier this year.
Prior to Blaster's release, he and the group had been performing Stone Temple Pilots songs live on what they called the Purple at the Core Tour. "We got really tight as a unit," he told Rolling Stone earlier this year. "It made me really want to go into the studio."
For all of his success, though, Weiland's life was often marred by tribulation. He battled with bipolar disorder and in his 2011 memoir, Not Dead & Not for Sale, he revealed a "big, muscular guy, a high school senior," sexually assaulted him when was 12. While still in high school, he began experimenting with alcohol and drugs, according to The New York Times. For much of his career, Weiland publicly battled addiction. He was convicted of buying crack cocaine in 1995 and of two DUIs in 2003 and 2007, respectively, according to CNN.
Weiland is survived by his wife, Jamie Wachtel, whom he wed in 2013, and two children, Noah and Lucy, that he had with his ex-wife Mary Forsberg. He was also married to Janina Castaneda throughout most of the Nineties.
"Ultimately, our goal was to create a legacy," Weiland told Rolling Stone in 2008 of Stone Temple Pilots. "When we were in the car driving around together, promoting local gigs, it was, 'One day we will be one of those bands that have a creative legacy.'"