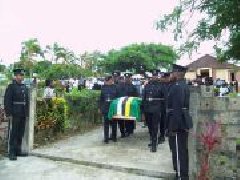 Friends, family and well wishers on Friday August 25, gather at the Marigot Methodist Church for the official funeral service of Pat Stevens, who was described as, a brother and true patriotic Dominican son of the soil.
Pat Stevens, who suffered a second stroke in July, succumbed to cancer of the bladder at the Princess Margaret Hospital (PMH) on August 19, 2006. He was born to Hilda and Wills Strathmore Stevens in 1934 in Marigot, where he began his education before moving to the Roseau Mixed School and then the Dominica Grammar School (DGS).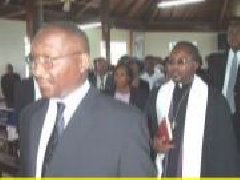 Pat, as all called him, entered the political ring in 1961 at the age of 26, on a Dominica Labour Party (DLP) ticket but lost to the Dominica United Peoples Party (DUPP) candidate Frobel Laville. In 1973 when his father WS Stevens retired from active politics, Pat contested the Bye Election as an Independent candidate in the North Eastern Electoral district and won. He also contested in the 1975 general elections as an Independent candidate and became the first person to win that seat which had become the Marigot constituency. In January 1978, he joined the Dominica Freedom Party (DFP) under the leadership of Eugenia Charles. Under the DFP banner, he contested and won the Marigot constituency in the 1980 and 1985 general elections. He retired from active politics in 1990 but continued to give his views on political affairs.