Pittsburgh Jewish community mourns the senseless killing of 11 members of their religious faith.

Synagogue shooting survivors recount terror as gunfire erupted.
They were a few minutes late on Saturday. They said that's why they are alive today.
Rabbi Doris Dyen, her husband Deane Root, and their friend Seymour Drescher knew some of the victims of the mass shooting at the Tree of Life synagogue in Pittsburgh, where 11 people were killed and six injured when an armed man walked in, yelled "All Jews must die," and opened fire. Robert Bowers, 46, has been arrested and faces homicide and hate crime charges.
They told "CBS Evening News" anchor Jeff Glor they are still haunted by the mass shooting.
Rabbi Dyen and her husband had driven up to the synagogue shortly after the shooting began, and very nearly got caught up in the gunfire. "There were shards of glass all over the sidewalk. And at the same moment, we heard ba-boom, ba-boom ba-boom ba-boom," she said.
Her husband, Deane, yelled, "It's active gunfire. Run!" They ran to their car and dialed 911.
"If we had been there three minutes earlier, maybe two minutes earlier, we wouldn't be here. We wouldn't be talking to you," said Rabbi Dyen.
Pittsburgh shooting suspect makes the court appearance while the feds seek the death penalty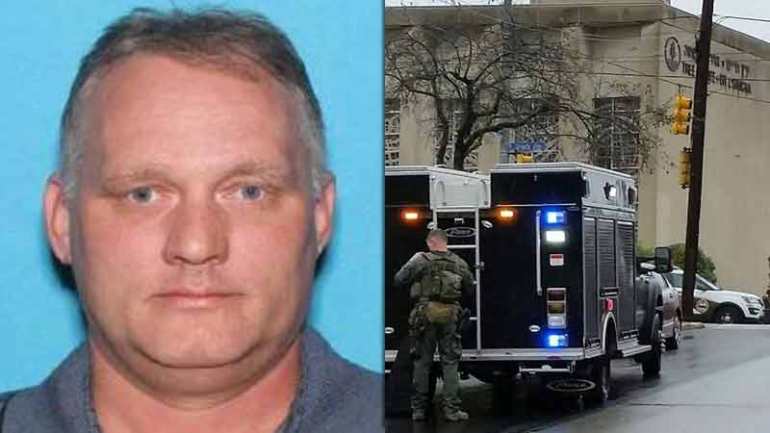 A gunman who frequently posted anti-Semitic threats online burst into a busy Pittsburgh synagogue on Saturday and opened fire, killing 11 people and injuring six others. After exchanging gunfire with police, 46-year-old Robert Bowers surrendered and was taken into custody.
U.S. Attorney Scott Brady said federal prosecutors are seeking approval to pursue the death penalty against Bowers, who was injured during the shootout with police. He made a brief court appearance in a wheelchair Monday and is being held without bail for a Thursday court appearance.
Armed with an AR-15 and three handguns, Bowers entered the Tree of Life Congregation and fired inside while expressing his hatred toward Jewish people, according to a charging document made public Sunday. It said the statements continued during his gunfight with police, with Bowers telling one officer: "They're committing genocide to my people. I just want to kill Jews."
The Pittsburgh Jewish Community Mourns the killing of 11 worshippers
It is considered the deadliest attack on the Jewish community in U.S. history, and a massacre that highlights the rise of hate crimes across the country.
Wendell Hissrich, the city's public safety director, said there was no further threat to the public. "It's a very horrific crime scene," he told reporters Sunday. "It's one of the worst that I've seen, and I've been on some plane crashes. It's horrible."
Tree of Life is located in Pittsburgh's Squirrel Hill neighborhood, which is known as the heart of the local Jewish community.
Robert Jones, head of the FBI's Pittsburgh office, said worshippers at the synagogue were "brutally murdered by a gunman targeting them simply because of their faith." Jones said Bowers' full motive is unknown, but said investigators believe he acted alone.
Gov. Tom Wolf arrived at the scene Saturday and called the attack an "absolute tragedy."
"These senseless acts of violence are not who we are as Americans," Wolf said in a statement. "My thoughts right now are focused on the victims, their families and making sure law enforcement has every resource they need."
President Trump and first lady Melania Trump will travel to Pittsburgh on Tuesday to express the support of the American people, the White House said. On Saturday, Mr. Trump said there would have been a different outcome if the synagogue had an armed guard at the building.
"If there was an armed guard inside the temple, they would have been able to stop him, maybe there would have been nobody killed, except for him, frankly," Mr. Trump told reporters at Joint Base Andrews on Saturday, adding that the U.S. should "stiffen up" its laws on the death penalty.
"When people do this, they should get the death penalty," he added. "And they shouldn't have to wait years and years. I think they should very much bring the death penalty into vogue."
Gone but not forgotten.