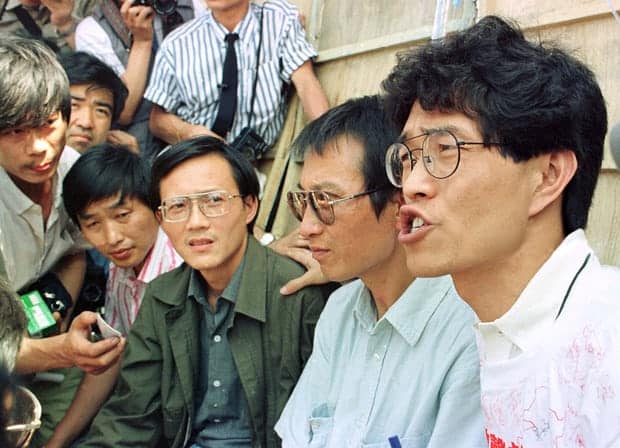 Peace prize winner and democracy activist dies of liver cancer, after spending almost a quarter of his life behind bars in China.
China is facing a barrage of international criticism for its treatment of the Nobel laureate and democracy campaigner Liu Xiaobo, who died at the age of 61 on Thursday.
Liu, who championed non-violent resistance as a way of overcoming "forceful tyranny", had been serving an 11-year jail sentence for demanding an end to one-party rule when he was diagnosed with late-stage liver cancer in May.
He died of multiple organ failure while under guard at a hospital in north-east China, making him the first Nobel peace prize winner to die in custody since German pacifist Carl von Ossietzky, the 1935 recipient, who died under surveillance after years confined to Nazi concentration camps.
Devotion amid despair: the great contemporary love story of Liu Xia and Liu Xiaobo

News of Liu's death sparked an immediate outpouring of international mourning and condemnation. His peaceful activism and biting criticism of one-party rule meant he had spent almost a quarter of his life behind bars.
The German chancellor, Angela Merkel, paid tribute to "a courageous fighter for civil rights and freedom of opinion".
The US secretary of state, Rex Tillerson, said he mourned the loss of a man who had dedicated "his life to the betterment of his country and humankind, and to the pursuit of justice and liberty".
The leader of the Norwegian Nobel Committee, which awards the prize, said the Chinese government – which had stopped Liu travelling abroad for treatment despite appeals from world leaders – bore "a heavy responsibility for his premature death".
"We find it deeply disturbing that Liu Xiaobo was not transferred to a facility where he could receive adequate medical treatment before he became terminally ill," said Berit Reiss-Andersen.
The British foreign secretary, Boris Johnson, said he was deeply saddened by the "huge loss" of the "lifelong campaigner for democracy, human rights and peace" and attacked Beijing for denying Liu and his family the chance to seek medical treatment overseas.