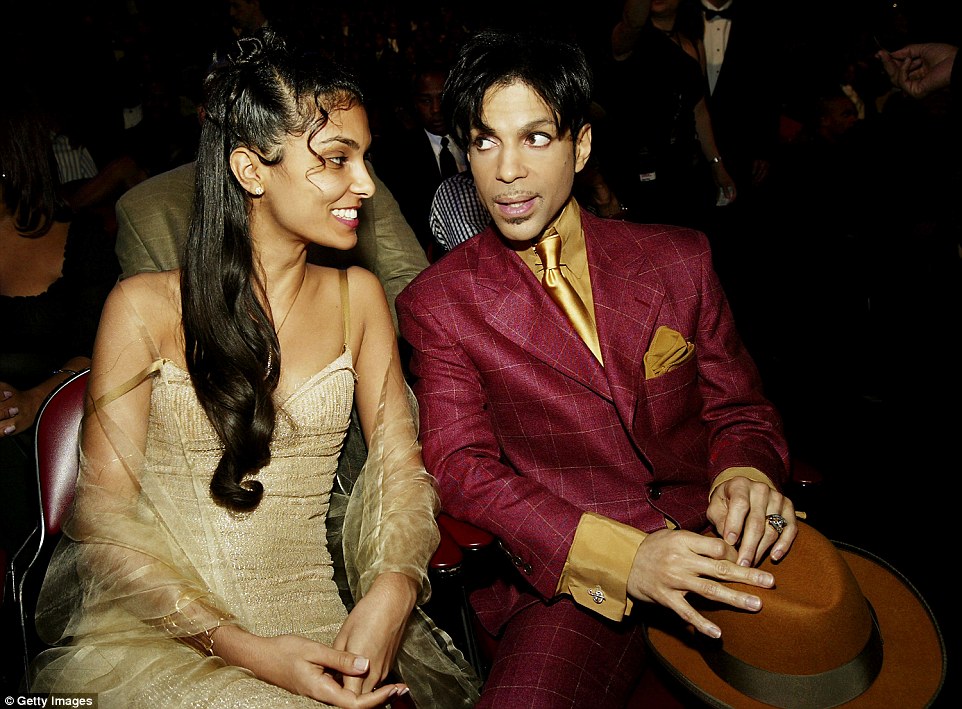 Prince died aged 57 at his Paisley Park estate in Minnesota today after being found unresponsive in an elevator Paramedics and police were called and tried to revive him with CPR but he was pronounced dead at 10.10am His cause of death is not known but a 911 dispatcher briefed an incoming paramedic: 'Male down, not breathing' He reportedly made several trips to a pharmacy in the last week and looked 'frail' as he stopped by Wednesday night  Music icon appeared at a gig on Saturday and told fans: 'Wait a few days before you waste any prayers' Legendary singer and songwriter sold more than 100million records in his sparkling 40-year music career Prince was known for his sexually charged lyrics and was romantically linked to a number of male and female stars President Obama joined stars including Madonna, Boy George, Mariah Carey and Ronnie Wood in paying tribute.
Mystery surrounds the death of Prince, who was found dying in an elevator this morning just a week after he was rushed to hospital with severe flu symptoms.
[youtube https://www.youtube.com/watch?v=jiwwfDJipC0]
The 57-year-old music icon was found unresponsive in the elevator at his suburban estate in Minnesota at 9.43am EST today and was pronounced dead less than 30 minutes later.
His cause of death is not known, but in a call to paramedics on the way to Prince's home, a 911 dispatcher said: 'Male down, not breathing.'
Prince's private plane made an emergency landing in Illinois on Friday so he could be rushed to hospital because of his flu symptoms, but was released three hours later and made an appearance at a party in Minnesota the next day, telling fans to 'wait a few days before you waste any prayers'.
The legendary singer had a history of epilepsy, which according to the CDC can make sufferers more vulnerable to developing serious complications from the flu.
It has also emerged that Prince made several trips to a Walgreen's pharmacy in the days before his death and is said to have appeared more 'frail and nervous' than usual on a visit to the store last night.
He was seen leaving the pharmacy near his compound at around 7pm last night in what was his fourth visit to the store this week and his final outing, TMZ reported.
His visits to the drug store came just days after he was rushed to hospital from his private plane with severe flu symptoms.
He was aboard his private flight when he fell ill on Friday morning, forcing it to make an unscheduled landing in Illinois.
TMZ reported that the seven-time Grammy award winning singer's plane diverted to Quad City International Airport in Moline, Illinois, to make the emergency landing.
He had had been suffering from flu for a number of weeks and was believed to be recovering, but took a turn for the worse in the early hours of Friday.
Prince was treated for three hours before being released.
Initial reports on his condition painted a much graver pictures, with one source claiming at the time he was 'not doing well'.
Prince had previously revealed that he was epileptic and had suffered seizures as a child. He was bullied at school over his condition which he said he dealt with by developing is iconic larger-than-life personality.
The singer, a devout Jehovah's Witness, later told his mother he had been cured by an angel.
The CDC warn that epilepsy can make sufferers more vulnerable to developing serious complications from the flu.
While Prince never made clear if he was still struggling to live with epilepsy, his song The Sacrifice of Victor tells the story of a boy who was 'epileptic 'til the age of seven'.
The Purple Rain hitmaker had performed at The Fox Theatre in Atlanta on last Thursday night – the second of two back to back sold out shows – and had seemed fine during the concert.
Prince made what is believed to have been his final public appearance on Saturday at a dance party in Minnesota.
He was keen for people to have 'living proof' that he was still alive, and he arrived at the bash to show off his new guitar and piano.
He didn't sing, but he did tell the crowd: 'Wait a few days before you waste any prayers.'
A picture posted by a fan on Instagram appeared to show Prince riding a bicycle outside his estate on Sunday.
Prince was known for his sexually charged lyrics and was romantically linked to a number of male and female stars, including Madonna, Sinead O'Connor, Kim Basinger, Kylie Minogue, Carmen Electra and Boy George, among a number of other people.
A 12-inch single, Scandalous Sex Suite, included vocals from Kim Basinger and moans heard on the track were rumored to be recordings of the pair having sex.
Last year Boy George claimed he had slept with Prince.
During filming of The Voice in the UK, he made light of Paloma Faith saying she had performed live with Prince.
'Forget that, darling, I've slept with Prince,' he replied.
Prince also slept with close friend and collaborating artist Sheila E while he was in a relationship with Susannah Melvoin, the twin sister of Wendy Melvoin – who was in his band, The Revolution.
Prince married backup dance Mayte Garcia on Valentine's Day in 1996. He dedicated the song The Most Beautiful Girl in the World to her two years earlier.
They had a son together, called Boy Gregory, in October 1996, but he was born with Pfeiffer Syndrome and died a week later.
Garcia, who split with Prince in 2000, looked exhausted and emotional today as she made a phone call at her home in Los Angeles, just hours after learning of her ex-husband's death.
Prince went on to marry Manuela Testolini in 2001, but they divorced in 2006.
He then dated Bria Valente until around 2008, after which time they split but were still recording music together.
Prince, an intensely private person, sold more than 100 million records during his career, won seven Grammy awards and was inducted into the Rock and Roll Hall of Fame in 2004.
In 2007, he played the Super Bowl in one of the most celebrated half-time show performances in history.
Prince's most recent album, HITnRUN: Phase Two was released in December 2015 and he was in the process of writing an untitled autobiography, which was due to be published in 2017.
He is believed to have written around 50 pages of his memoirs and had recorded a number of songs that had not been released. It is not clear what will happen to his unpublished work.
'What's happening now is the position that I've always wanted to be in,' he said in 2014. 'I was just trying to get here.'
Source The Daily Mail Online
Video: