Justin Wilson British IndyCar driver dead at 37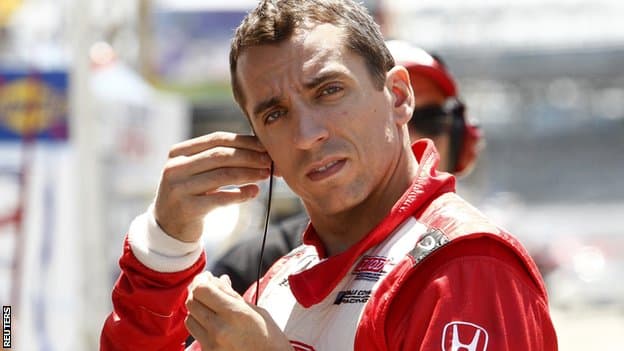 British driver Justin Wilson has died after being struck by flying debris and suffering a serious head injury in Sunday's Pocono IndyCar 500 race.
Wilson was airlifted to hospital from the Pocono Raceway in Pennsylvania after Sage Karam's car spun and crashed in front of him on lap 179 of 200.
Debris from Karam's car hit ex-Formula 1 driver Wilson, 37, and the Andretti Autosport driver crashed into a wall.
IndyCar officials said his death was a "monumentally sad day".
Mark Miles, chief executive of IndyCar parent company Hulman & Co, said: "Justin's elite ability to drive a race car was matched by his unwavering kindness, character and humility – which is what made him one of the most respected members of the paddock.
"As we know, the racing industry is one big family, and our efforts moving forward will be focused on rallying around Justin's family to ensure they get the support they need during this unbelievably difficult time."
A seven-time IndyCar race winner, Wilson, from Sheffield, is survived by his wife, Julia, and two daughters.
In a statement his family said he was a "loving father and devoted husband, as well as a highly competitive racing driver who was respected by his peers".
His brother Stefan, also a racing driver, paid tribute on social media, saying: "Can't even begin to describe the loss I feel right now. He was my brother, my best friend, my role model and mentor. He was a champion.
"He lived for this sport, he loved it. The only comfort I feel is that he lived a life he loved."
An Andretti Autosport team statement said: "He was a tremendous racer, a valuable member of the team and respected representative to our sport. While Justin was only part of the Andretti line-up for a short time, it only took a second for him to forever become part of the Andretti family.
"His life and racing career is a story of class and passion surpassed by none."
From F1 to IndyCar – Wilson's career
Wilson was making his 174th IndyCar start in Sunday's race, but his major motorsport breakthrough came in F1.
He won the Formula 3000 series in 2001, and two years later raised £1.2m to finance his F1 entry after setting up a company in his own name.
Standing at 6ft 4in, Wilson was unusually tall for F1 – drivers over six feet are a rarity – and he scored his only point from 16 races with Minardi and Jaguar during 2003 at the United States Grand Prix.
He moved to the United States in 2004 and enjoyed greater success in Champ Car, finishing as series runner-up in 2006 and 2007 before switching to IndyCar racing in 2008, after Champ Car merged with the Indy Racing League.
He finished second in the previous IndyCar race in Mid-Ohio on 2 August, his first podium finish since 2013, while his final victory came at the Firestone 550 at Texas Motor Speedway in June 2012.
His appearance at the triangle-shaped Pocono Raceway was only his sixth of this season as he struggled to find a full-time seat.:
Source: http://www.bbc.com/sport/0/motorsport/34037413
Justin Wilson, 37, died Monday August 24, 2015 a day after he was struck in the head by a piece of debris