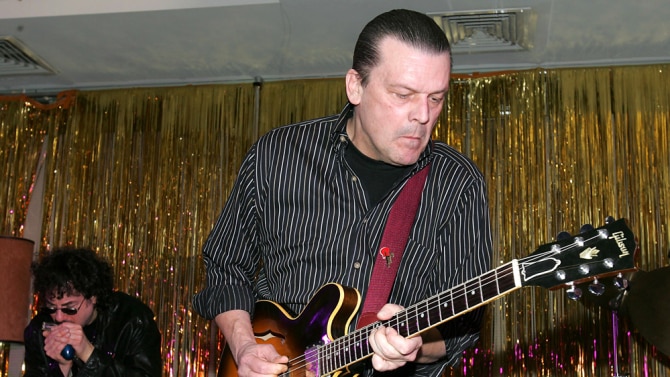 Musician John Warren Geils Jr., guitarist and founder of the J. Geils Band known for such hits as Love Stinks, Freeze Frame and Centerfold, has died in his Massachusetts home at 71.
Groton, Mass., police said officers responded to Geils's home around 4 p.m. Tuesday for a well-being check and found him unresponsive. He was pronounced dead at the scene.
"A preliminary investigation indicates that Geils died of natural causes," police said in a statement.
[youtube https://www.youtube.com/watch?v=pMcOYs0r1Xg]
The J. Geils Band was founded in Worcester, Mass., in the late 1960s, as two separate groups of musicians joined forces.
Geils, whose full name was John Warren Geils Jr., was studying at Worcester Polytechnic Institute when the band began to take shape.
The band's lineup was stable through their years of success and included charismatic lead singer Peter Wolf, Danny Klein on bass, Stephen Jo Bladd on drums, Seth Justman on keyboards and Richard (Magic Dick) Salwitz on harmonica and saxophone.
The band emerged from the Boston bar scene and secured a record contract on Atlantic, recording their debut album in 1970.
Their early albums especially contained several R&B and blues covers – their radio hits in the early 70s included Lookin' for a Love originally done by The Valentinos and Ain't Nothin' But a House Party from The Showstoppers, as well as originals Musta Got Lost and Give It to me.
The band's early albums were not huge sellers but they burnished their reputation with their high-energy performances, eventually releasing three concert LPs during their active days. Acts that opened for the band included The Cars, Tom Petty and the Heartbreakers, Van Halen and U2.
Second phase commercially successful
J. Geils Band changed labels in the late 1970s and received a strong push from Capitol, resulting in hit songs Just Can't Wait and title track Love Stinks on their 1980 release.
Freeze Frame, released just under two years later, was an even bigger success. Aided by their music videos, the album reached No. 1 on the Billboard charts, where it stayed for four weeks. Centerfold spent six weeks atop the U.S. Billboard Hot 100 beginning in February 1982.
They would split up not long after their most commercially successful release, with Wolf embarking on a longstanding solo career.
Geils himself often receded from the music business to pursue other interests. At times he was entangled with the rest of the members in a legal dispute over the use of the band name, as the others frequently played shows within the last 15 years without him.
The band has been nominated four times for entry into Rock and Roll Hall of Fame but have not been inducted.
"This is our fourth nomination, and going through that process, with its inherent disappointment, you're not sure you want to take that ride again," lead vocalist Peter Wolf told Billboard at the time. "It's great to be recognized, but it's a drag to be disappointed. I hope that we make it in. That would be great."
Wolf paid tribute on Twitter soon after Geils's death was announced, as did other musicians.