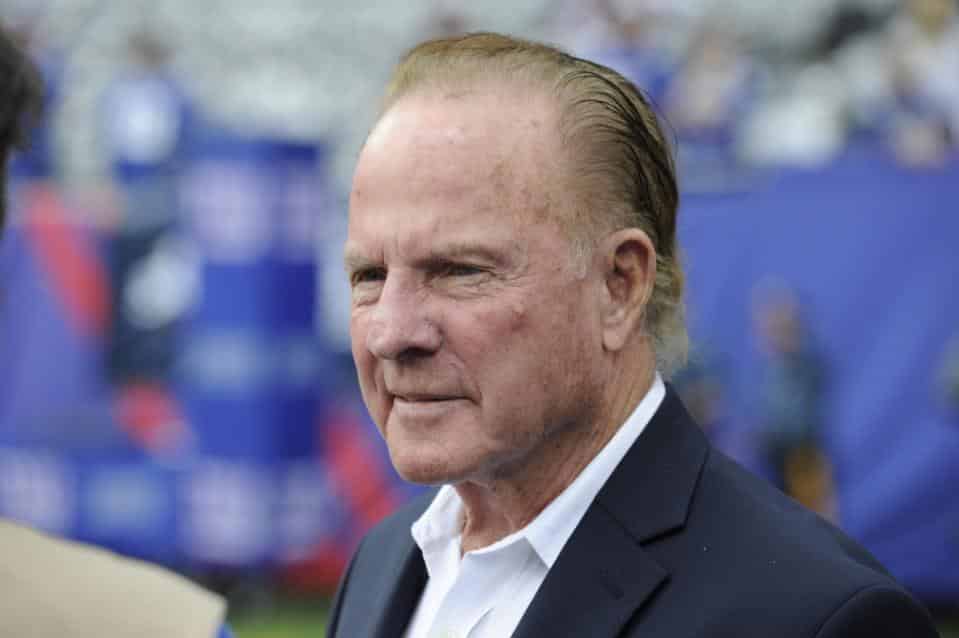 Giants Hall of Fame running back Frank Gifford has passed away, one week shy of his 85th birthday.
"It is with the deepest sadness that we announce the sudden passing of our beloved husband, father and friend, Frank Gifford," the Gifford family said in a statement released to NBC News. "Frank died suddenly this beautiful Sunday morning of natural causes at his Connecticut home. We rejoice in the extraordinary life he was privileged to live, and we feel grateful and blessed to have been loved by such an amazing human being. We ask that our privacy be respected at this difficult time and we thank you for your prayers."
An eight-time Pro Bowler at three different positions and former NFL MVP, Gifford led the Giants to the 1956 championship, captured with a win over the Bears.
The National Football League recipient Frank Gifford died suddenly at his Connecticut home
https://www.youtube.com/watch?v=f68nMC_MpHs
A running back before a brutal hit from the late Chuck Bednarik knocked Gifford out of football for 18 months (he actually retired in 1961), Gifford returned in 1962 as a flanker — winning the league's comeback player of the year award and becoming a Pro Bowler all over again. (Gifford previously qualified for the Pro Bowl as a cornerback, too.)
He finished his playing career in 1964, generating 3,609 rushing yards and 5,434 receiving yards. Gifford scored 77 touchdowns from scrimmage, and he added another on an interception return. As a part-time kicker in 1952 and 1956, he made 10 extra points and two field goals.
The Hall of Fame welcomed Gifford as a member in 1977.
Gifford's broadcasting career was arguably even more memorable, given his role as play-by-play announcer for the fabled Monday Night Football booth that included Howard Cosell and Don Meredith. In 1995, Gifford received separate recognition from the Hall of Fame for his work in TV. He remained a fixture on MNF through 1998.
We extend our condolences to Gifford's family, friends, teammates, and television colleagues.
Frank Gifford – Wikipedia, the free encyclopedia
Francis Newton "Frank" Gifford (August 16, 1930 – August 9, 2015) was an American football player and later an American sportscaster.
Gifford was born in Santa Monica, California, the son of Lola Mae (née Hawkins) and Weldon Gifford, an oil driller.
After graduating from Bakersfield High School, Gifford was unable to gain an athletic scholarship to the University of Southern California (USC) due to his low grade point average. Undeterred, he played a season for Bakersfield Junior College, making the Junior College All-American team while making the grades needed to enroll at USC.
At USC, Gifford was named an All-American athlete and player and graduated in the class of 1952. In 1951 he ran for 841 yards on 195 carries.