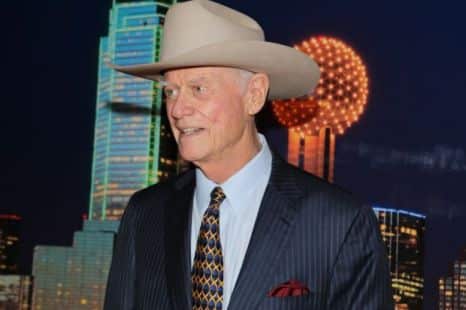 LOS ANGELES — Larry Hagman, whose predatory oil baron J.R. Ewing on television's long-running nighttime soap opera "Dallas" became a symbol for 1980s greed and coaxed forth a Texas-sized gusher of TV ratings, has died. He was 81.
Hagman, who returned as J.R. in a new edition of "Dallas" this year, passed away Friday afternoon due to complications from his battle with cancer, according to a statement from the family provided to The Associated Press by Warner Bros., producer of "Dallas."
"Larry was back in his beloved hometown of Dallas, re-enacting the iconic role he loved the most," the family said. "Larry's family and closest friends had joined him in Dallas for the Thanksgiving holiday."
Hagman was diagnosed in 1992 with cirrhosis of the liver and acknowledged that he had drank heavily for years. In 1995, a malignant tumour was discovered on his liver and he underwent a transplant.
Years before "Dallas," Hagman had gained TV fame as a nice guy with the fluffy 1965-70 NBC comedy "I Dream of Jeannie," in which he played Capt. Tony Nelson, an astronaut whose life is disrupted when he finds a comely genie, portrayed by Barbara Eden, and takes her home to live with him.
He also starred in two short-lived sitcoms, "The Good Life" (NBC, 1971-72) and "Here We Go Again" (ABC, 1973). His film work included well-regarded performances in "The Group," "Harry and Tonto" and "Primary Colors."
But it was Hagman's masterful portrayal of the charmingly loathsome J.R. that brought him his greatest stardom. The CBS serial drama about the Ewing clan and those in their orbit aired from April 1978 to May 1991.
The "Who shot J.R.?" story twist, in which Hagman's character was nearly murdered in a cliffhanger episode, fueled international speculation and millions of dollars in betting-parlour wagers. It also helped give the series a ratings record for the time.
When the answer was revealed in a November 1980 episode, an average 41 million viewers tuned in to make "Dallas" the second most-watched entertainment show of all time, trailing only the "MASH" finale in 1983 with 50 million viewers.
It was J.R.'s sister-in-law, Kristin (Mary Crosby) who plugged him — he had made her pregnant, then threatened to frame her as a prostitute unless she left town — but others had equal motivation.
Hagman played Ewing as a bottomless well of corruption with a charming grin: a business cheat and a faithless husband who tried to get his alcoholic wife, Sue Ellen (Linda Gray), institutionalized.
"I know what I want on J.R.'s tombstone," Hagman said in 1988. "It should say: 'Here lies upright citizen J.R. Ewing. This is the only deal he ever lost."'
In 2006, Hagman did a guest shot on FX's drama series "Nip/Tuck," playing a macho business mogul. He also got new exposure in recent years with the DVD releases of "I Dream of Jeannie" and "Dallas."
The Fort Worth, Texas, native was the son of singer-actress Mary Martin, who starred in such classics as "South Pacific" and "Peter Pan." Martin was still in her teens when he was born in 1931 during her marriage to attorney Ben Hagman.