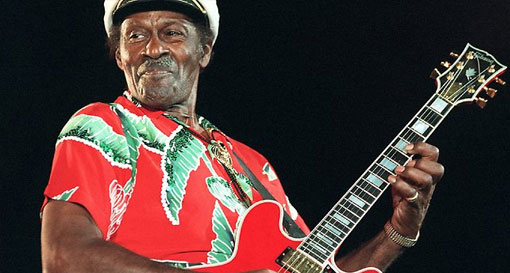 Chuck Berry was one of the most popular and influential performers of rhythm-and-blues and rock 'n' roll music during the 1950s, '60s and '70s. He's known for songs like "Johnny B. Goode" and "My Ding-a-Ling."

Synopsis
Born on October 18, 1926, in St. Louis, Missouri, Chuck Berry had early exposure to music at school and church. As a teen, he was sent to prison for three years for armed robbery. He began producing hits in the 1950s, including 1958's "Johnny B. Goode," and had his first No. 1 hit in 1972 with "My Ding-a-Ling." With his clever lyrics and distinctive sounds, Berry became one of the most influential figures in the history of rock music. Berry died on March 18, 2017 at the age of 90.
Early Life in St. Louis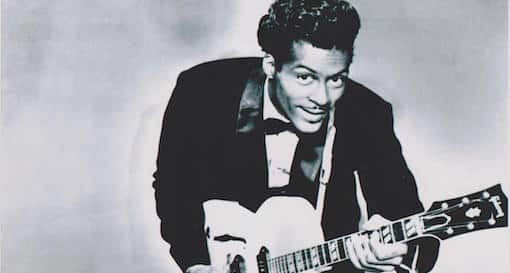 Considered by many as the "father of rock 'n' roll," Chuck Berry was born Charles Anderson Edward Berry on October 18, 1926, in St. Louis, Missouri. His parents, Martha and Henry Berry, were the grandchildren of slaves, and are among the many African Americans who migrated from the rural South to St. Louis in search of employment during the World War I era. Martha Berry was one of the few black women of her generation to gain a college education, and Henry Berry was an industrious carpenter as well as a deacon at the Antioch Baptist Church.
At the time of Chuck Berry's birth, St. Louis was a sharply segregated city. He grew up in a north St. Louis neighborhood called the Ville—a self-contained middle-class black community that was a haven for black-owned businesses and institutions. The neighborhood was so segregated that Berry had never even encountered a white person until the age of three, when he saw several white firemen putting out a fire. "I thought they were so frightened that their faces were whitened from fear of going near the big fire," he once recalled. "Daddy told me they were white people, and their skin was always white that way, day or night."
The fourth of six children, Berry pursued a variety of interests and hobbies as a child. He enjoyed doing carpentry work for his father and learned photography from his uncle, Harry Davis, a professional photographer. Berry also showed an early talent for music and began singing in the church choir from the age of six. He attended Sumner High School, a prestigious private institution that was the first all-black high school west of the Mississippi. For the school's annual talent show, Berry sang Jay McShann's "Confessin' the Blues" while accompanied by a friend on the guitar. Although the school administration bristled at what they viewed as the song's crude content, the performance was an enormous hit with the study body and sparked Berry's interest in learning the guitar himself. He started guitar lessons soon after, studying with local jazz legend Ira Harris.
Berry also grew into something of a troublemaker in high school. He was uninterested in his studies and felt constrained by the strict decorum and discipline. In 1944, at the age of 17, Berry and two friends dropped out of high school and set off on an impromptu road trip to California. They had gone no farther than Kansas City when they came across a pistol abandoned in a parking lot and, seized by a terrible fit of youthful misjudgment, decided to go on a robbing spree. Brandishing the pistol, they robbed a bakery, a clothing store and a barbershop, then stole a car before being arrested by highway patrolmen. The three young men received the maximum penalty—10 years in jail—despite being minors and first-time offenders.
Berry served three years in the Intermediate Reformatory for Young Men outside of Jefferson, Missouri, before gaining release on good behavior on October 18, 1947, which was his 21st birthday. He returned to St. Louis, where he worked for his father's construction business and part-time as a photographer and as a janitor at a local auto plant.
In 1948, Berry married Themetta "Toddy" Suggs, with whom he would eventually have four children. He also took up the guitar again when, in 1951, his former high school classmate Tommy Stevens invited him to join his band. They played at local black nightclubs in St. Louis, and Berry quickly developed a reputation for his lively showmanship. At the end of 1952, he met Jonnie Johnson, a local jazz pianist, and joined his band, the Sir John's Trio. Berry revitalized the band and introduced upbeat country numbers into the band's repertoire of jazz and pop music. They played at the Cosmopolitan, an upscale black nightclub in East St. Louis, which began attracting white patrons.
Chuck Berry Website
Chuck Berry