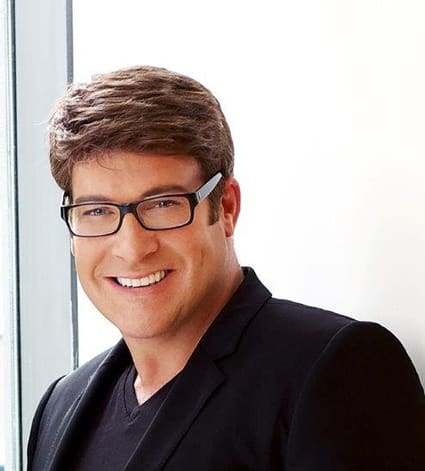 Chris Hyndman, one half of the CBC Television talk show duo Steven and Chris, has died after police found him without vital signs in a laneway just below the east-end Toronto apartment he shared with husband Steven Sabados.
Toronto police say Hyndman was found near the intersection of Queen St. E. and Broadview Ave. shortly after 11 p.m. on Monday.
Today, his mother told the media that her son Chris was sleepwalking.
The laneway is overlooked by the apartment shared by Hyndman and Sabados, his TV co-host and spouse.
Police are not appealing for witnesses, though it remains a "completely open investigation," said Toronto police Det. Terry Wray. He added that police would not comment further until completing interviews.
CBC announced the news in a memo to staff on Tuesday afternoon.
"It is with profound sadness that we share the news Christopher Hyndman died early this morning," it said.
"We extend our deepest sympathies to Steven, family, friends and colleagues; our thoughts are with them all," the announcement said.
Chuck Thompson, head of public affairs at CBC English services, said Steven and Chris has been pulled from the TV schedule.
According to Numeris, the Canadian audience rating agency, 24 per cent of Canadians — or 8.527 million people — watched the show in its eighth season. The show's website has close to 60,000 weekly unique visitors, making it one of the network's top digital performing titles.
Hyndman, who was born in Ottawa but raised in Newfoundland, had just returned from a weekend trip to Barbados.
https://www.youtube.com/watch?v=2XedB32zHNo
Hyndman and Sabados were co-stars of the original Designer Guys show in 2001 as well as Design Rivals (2003) and So Chicwith Steven and Chris (2005) before launching their afternoon talk show.
The pair formed the Sabados Group Inc. in 1992, specializing in event planning, product launches and set design, his CBC biography says.
A 2013 profile of Hyndman and Sabados by Xtra, then Toronto's gay newsmagazine, called them "Canada's gay-lifestyle TV guru couple," whose show Steven and Chris was "a bona fide hit for CBC" and also aired on ABC's Live Well Network.
The couple told Maclean's magazine the same year that they had met in a bar in 1988 when they both were working at City TV.
In the Xtra interview, Hyndman spoke about the difficulty of growing up gay.
"When I was a little kid living in St John's, Newfoundland, suicide was on my mind a lot because I had nowhere to go when I was 12, 13, 14, to talk about it," Hyndman told the newspaper.
"There was no Will & Grace. The ones that were role models for us were caricatures of being gay. That wasn't really what you really wanted to represent yourself. I ended up being one, but I didn't necessarily want to be at the time," he added.
Theresa Albert, who worked on the show as a food and health expert and is also a regular contributor to Metro News, had fond memories of Hyndman.
"Chris had that special way of making you feel like the only person in the room. I remember arriving at CBC for the show and having him beam his brilliant smile and a 'Hey gorgeous!'" Albert recalled.
"Chris always set the tone of the show from the minute of arrival as a cheery place to be. I could always count on him for comic relief when things were showbiz intense," she added.
Other colleagues shared their condolences Tuesday, including fellow design couple Colin McAllister and Justin Ryan.
"We are so saddened to hear of the passing of Chris Hyndman," the Scottish decorators posted on Facebook. "Our deepest sympathies to Steven at this heart breaking time. And our condolences to Chris and Steven's families and friends."
CBC colleagues including Murdoch Mysteries star Yannick Bisson and comic Rick Mercer of Rick Mercer Report also weighed in online.
"So very sad to hear of the passing of Chris Hyndman. He was always laughing, always smiling. A great Newfoundland character," Mercer tweeted.
Mary Darling, Designer Guys creator and executive producer, recalled Hyndman was initially shy to take the spotlight. When Sabados auditioned for the show Hyndman hung back.
"Chris was just there as Steven's business partner, he didn't come to audition for the show and throughout the day we asked, 'Would you audition? We think you'd be great,'" said Darling.
"He was so nervous that he wouldn't do it until everybody else left. And then when he auditioned, he would only look at me. And thank goodness Steven had other clothes because he was so nervous he went through the shirts. But he was good, he was just naturally good."
Suzanne Dimma, editor-in-chief of House & Home magazine and host of the defunct design series The Style Dept., credited Hyndman and Sabados with making design approachable for average viewers.
"They really had one of the first hit shows that kind of made design seem fun and relatable," said Dimma, who also knew the couple socially.
"It sort of broke through the barriers of the design world, which can be intimidating to a lot of people."
Source: http://www.thestar.com
Before becoming the popular television personality Chris Hyndman age 49 died worked at worked in the makeup department of the Hudson's Bay Company