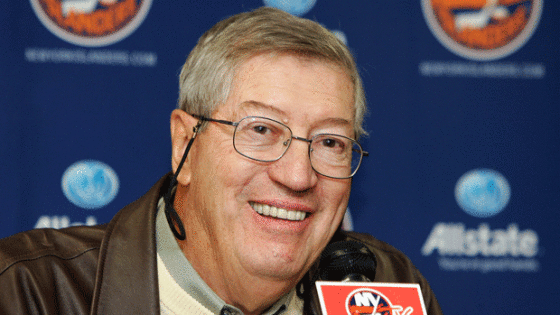 As coach of the 1980s New York Islanders dynasty, Al Arbour commanded immediate respect from his players and contemporaries around the NHL.
"Al used to say that the negative energy that you're feeling, turn it into a positive energy," Hall of Fame defenceman Denis Potvin said. "That has never left me, and I know many of my teammates must feel the very same way because he just never felt than anything was insurmountable."
Arbour led the Islanders to four consecutive Stanley Cups, and on Friday the hockey community remembered him for his temperament and incredible success after his death at the age of 82 following a long battle with Parkinson's disease and dementia.
Potvin said Arbour left the Islanders "feeling like champions." That team, led by Potvin, Mike Bossy and Bryan Trottier, captured the Cup in 1980, 1981, 1982 and 1983 and won an NHL-record 19 straight playoff series through 1984.
No team has won even three straight titles since.
Arbour's 782 regular-season victories are the second most in league history behind only Scotty Bowman, who he played for with the St. Louis Blues.
Remembering legendary Islanders coach Al Arbour
'No-nonsense guy'
"He was thorough," Bowman said by phone Friday. "He had experience on good teams, he knew what it took to win. He was a no-nonsense guy. He laid down a plan, and you had to execute it."
Arbour took the expansion Islanders to the playoffs in just their third year of existence and won the Cup in their eighth, his seventh behind the bench. He made 15 playoff appearances and coached a total of 1,500 games for New York, hitting the milestone when he came out of retirement for one final game in 2007 at the request of Ted Nolan.
"Al will always be remembered as one of, if not, the greatest coaches ever to stand behind a bench in the history of the National Hockey League," Islanders general manager Garth Snow said in a statement released by the team. "From his innovative coaching methods, to his humble way of life away from the game, Al is one of the reasons the New York Islanders are a historic franchise."
Arbour, who also coached the Blues for parts of three seasons, was inducted into the Hockey Hall of Fame as a builder in 1996. Bill Torrey, the GM of the 1980s Islanders dynasty, said Arbour treated his players like family and prized winning above everything else in the sport.
"He never doubted the direction we were going in and I think the players could see this wasn't just words, this was something that this man believed deeply," Torrey said on a conference call. "And that makes it a little bit easier to follow."
Former Islanders forward Ray Ferraro remembered Arbour as much as a person as a winning coach and has fond memories of New York's run past Bowman's Pittsburgh Penguins in the 1993 playoffs.
"He was very firm and very demanding, but he was so incredibly fair that I don't know how you could want to play for anyone else," Ferraro said by phone. "He never panicked, was always sure but always sure without being a dictator. … Al never tried to be the man. He just was."
Source: http://www.cbc.ca
Al Arbour, Coach of 1980s Islanders Dynasty, Dead at 82