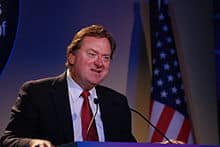 Timothy John "Tim" Russert (May 7, 1950 – June 13, 2008) was an American television journalist and lawyer who appeared for more than 16 years as the longest-serving moderator of NBC's Meet the Press. He was a senior vice president at NBC News, Washington bureau chief and also hosted an eponymous CNBC/MSNBC weekend interview program. He was a frequent correspondent and guest on NBC's The Today Show and Hardball. Russert covered several presidential elections, and he presented the NBC News/Wall Street Journal survey on the NBC Nightly News during the 2008 U.S. presidential election. Time magazine included Russert in its list of the 100 most influential people in the world in 2008. Russert was posthumously revealed as a 30-year source for syndicated columnist Robert Novak.

Russert was born in Buffalo, New York, the son of Elizabeth "Betty" (née Seeley; January 9, 1929 – August 14, 2005), a homemaker, and Timothy Joseph "Big Russ" Russert (November 29, 1923 – September 24, 2009), a sanitation worker. Elizabeth and Joseph were married for 30 years, before separating in 1976. Russert was the second of four children; his sisters are Betty Ann (B.A.), Kathleen (Kathy) and Patricia (Trish). His parents were Catholics, and he had German and Irish ancestry. He received a Jesuit education from Canisius High School in Buffalo.
He received his B.A. in 1972 from John Carroll University and a Juris Doctor with honors from the Cleveland State University, Cleveland-Marshall College of Law in 1976. Russert commented on Meet the Press that he went to Woodstock, "in a Buffalo Bills jersey with a case of beer." While in law school, an official from his alma mater, John Carroll University, called Russert to ask if he could book some concerts for the school as he had done while a student. He agreed, but said he would need to be paid because he was running out of money to pay for law school. One concert that Russert booked was headlined by a then-unknown singer, Bruce Springsteen, who charged $2,500 for the concert appearance. Russert told this story to Jay Leno when he was a guest on The Tonight Show on NBC on June 6, 2006.[9] John Carroll University has since named its Department of Communication and Theatre Arts in Russert's honor.
Resource: https://en.wikipedia.org/wiki/Tim_Russert
Tim Russert died June 13 2008
8:30 p.m. | A Giant With a Small-Town Quality: The wrap for now comes from Ben Bradlee, former editor of the Washington Post, who provided a spontaneous eulogy by phone to Andrea Mitchell in classic Bradlee fashion.
Mr. Russert, he said, was "all pro."
"He didn't take himself too seriously or the rest of the charade too seriously," Mr. Bradlee said.
When he was starting out in journalism, Mr. Bradlee said, he and his pals were always trying to figure out how to get on "Meet the Press." (Mr. Bradlee finally managed by knowing something about Algeria, "and nobody in Washington knew anything about Algeria.")
Getting on "Meet" was journalistic Nirvana. "It was like you were being knighted," Mr. Bradlee said. "All of a sudden you went up a couple of ranks in their class."
Asked about the influence of "Meet" now, Mr. Bradlee confessed: "Ever since I bought a place in the country I don't see it every Sunday." But, he said, even the schedule of who the guests were going to be was news. When the schedule is important, he said, "you know that you've arrived in this place."
He chuckled about what he called Mr. Russert's small-town quality, "all that Buffalo stuff," and Ms. Mitchell thanked him: "A giant in journalism, from one to another."