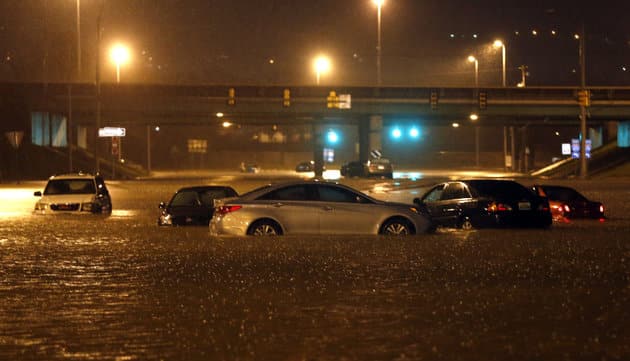 DALLAS, Dec 26 (Reuters) – Seven people died in the greater Dallas area as a storm system brought tornadoes and flooding on Saturday, increasing the death toll from harsh weather in the southern United States this week to 25, according to officials and local media.
In a statement, police in Garland confirmed that four people died after a tornado struck the city, some 15 miles (24 km) northeast of downtown Dallas. Homes, apartments, and vehicles were also damaged, police said, but it was not clear how many people were hurt.
According to Garland police spokesman Mike Hatfield, local broadcaster NBC5 reported that a fifth person also died in the city and that all five were involved in a traffic accident. A spokesperson for the department could not be immediately reached.
Two other people were found dead at a gas station in the city of Copeville, another 20 miles (32 km) to the northeast, authorities told local broadcaster WFAA-TV.
The National Weather Service confirmed tornadoes hit multiple cities in the greater Dallas area on Saturday evening, and there were reports of widespread damage and flooding.
NWS meteorologist Steve Fano said roughly eight tornadoes might have touched down across seven counties, though preliminary reports could not be confirmed until the morning.
The Weather Service said at least one tornado struck south of Dallas in Ellis County, where Emergency Management Coordinator Stephanie Parker said: "We have destroyed and damaged homes."
Weather officials also confirmed tornadoes hitting the towns of Ovilla, Farmersville, and Rowlett. Images uploaded to social media showed a massive tornado near Rowlett and devastating houses and vehicles.
The Weather Service said reports of debris falling from the sky onto a highway in nearby DeSoto. Fano said that while the tornado threat had dissipated for the region, flash flood watches would extend through the night.
According to energy company Oncor, power was out for some 30,000 customers in the region as of Saturday night.
MORE BODIES IN MISSISSIPPI
On Saturday, officials in Benton County, Mississippi found the bodies of a man and woman who were missing since being caught in a tornado on Wednesday, said Greg Flynn, spokesman for Mississippi Emergency Management Agency.
The cause of their deaths was not disclosed, but they brought the total dead from tornadoes in Mississippi to 10, in addition to 56 people injured, officials said.
The tornado damaged 403 homes over a seven-county area in the state, Flynn said. In addition, flooding left 50 homes uninhabitable and closed 40 roads in Monroe County, which got 10 to 12 inches (about 25 to 30 cm) of rain, he said.
The tornadoes also killed six people in Tennessee, Arkansas, and Alabama, bringing the three-state total to 18.
State authorities told local broadcaster WTVY that they had recovered the body of a 5-year-old boy who drowned when the car he was in was swept into floodwaters on Friday. A 22-year-old man who was in the car remains missing, the station said.
Forecasters said that U.S. post-holiday travelers could expect a mix of stormy weather during the remainder of the weekend, with blizzard conditions in New Mexico and western Texas and flooding rain in the southern plains from south Texas through Indiana.
In California, high winds fanned a wildfire that closed parts of the much-traveled U.S. 101 northwest of Los Angeles and forced evacuations, fire officials said.
The wet and snowy conditions come after a Christmas Day of unseasonable warmth on the East Coast, with record-high temperatures set or tied in several cities, including New York.
(Reporting by Lisa Maria Garza in Dallas, Mary Wisniewski in Chicago and Kevin Murphy in Kansas City; Additional reporting by Curtis Skinner in San Francisco; Editing by Bill Rigby and Dan Grebler)