An island nation has lost a passionate advocate for its culture and identity. Alwin Bully, a pioneering advocate for the preservation of Dominica's cultural arts and traditions, has passed away at the age of 75.
Bully was an ardent arts champion, actively promoting drama, painting, dance, folk traditions, creative writing and carnival in his beloved home country. In 1965, he proudly represented Dominica at the Commonwealth Arts Festival in Britain, bringing members of the Kairi and Dominica Dance troupes to perform and share their talents with the world.
He was a tireless champion of the island's culture and a strong advocate for including local artists in the larger scope of Caribbean culture. His efforts to bring attention to the region's cultural diversity have impacted how the arts are presented and appreciated.
Bully's passion for Dominica's culture and advocacy for its preservation has earned him the gratitude of generations, and his passing is a great loss for his island home. He will always be remembered for tireless efforts to promote and protect Dominica's cultural arts and traditions. May his legacy live on in the hearts and minds of his fellow citizens. Alwin Bully: A Tribute to a Cultural Icon
The news of the passing of Alwin Bully, the beloved cultural icon of the Caribbean island of Dominica, has sent shockwaves throughout his beloved home. Throughout his life, Bully was a tireless champion for preserving Dominica's unique cultural arts and traditions. Even as he approached his 75th year, he worked tirelessly to ensure that the culture integral to his homeland's identity would remain intact and passed on to future generations.
Alwin Bully passionately advocated for his home country and its cultural heritage. He was heavily involved in promoting Dominica's traditional music, dance, and art forms, as well as its folklore and customs. Bully also campaigned to protect its natural resources, which provide many foundations for the sustainable way of life that much of the country depends on.
Bully was instrumental in helping to develop the vibrant national culture of Dominica, and his work has left the island with a strong connection to its unique and diverse cultural past. He was beloved by many among the Dominica people, admired and respected for his tireless commitment to ensuring that the island's culture would continue to thrive and endure.
The passing of Alwin Bully, a renowned figure in the Dominica cultural realm, has left the Caribbean nation in sorrow. In remembering Alwin Bully, it is ultimately a tribute to a man that dedicated himself to giving back to his home country.
The iconic ambassador for Dominica's unique identity was 75 years old when he passed away Friday, March 13, and left behind a legacy that will be remembered for years to come. He was an inspirational figure, a national cultural icon, and a true ambassador for Dominica's unique identity. May his legacy forever be remembered in the hearts and minds of the Caribbean nation, he so devotedly served.
Alwin was a passionate promoter of his own country's heritage and earned the nickname 'Cultural Icon' due to his commitment to Dominica's culture and traditions. He actively represented the island worldwide and helped build a positive global perception of Dominica and its citizens.
Alwin forged a path and encouraged others to follow, inspiring people to explore and appreciate their culture. From using traditional music and instruments to preserving cultural heritage and arts, Alwin was a role model and a leader in the field. He was a spokesperson for the island's culture and strived to ensure his beloved island was never forgotten.
The life and work of Alwin Bully will be fondly remembered by those in the Caribbean region who had the opportunity to know him. As a nation, Dominica can be proud to have had such a figure among them, who his family and loved ones will deeply miss. He inspired generations of Dominicans, and his dedication to culture will continue to inspire generations.
Alwin Bully Biography: Alwin Bully was born in Roseau on November 14, 1948, and
Alwin Bully's Biography: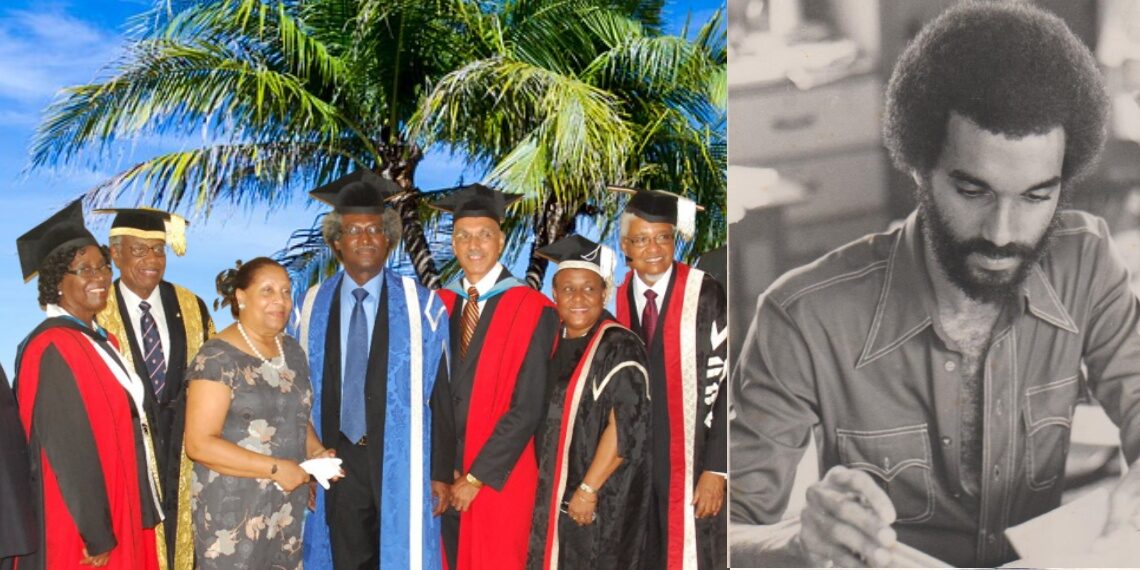 Alwin Anthony Bully, born November 23, 1948, was the son of Charles Bully and Edna Bully. He married Anita Astaphan in 1977, and they gave birth to three children, Brent, Sade and Peron, who is now deceased. Bully was educated at the Convent Preparatory School, the Dominica Grammar School, the St. Mary's Academy and the University of the West Indies, Cave Hill.
The cultural icon Dr. Alwin Bully was a renowned playwright, cultural administrator, short story writer, actor, graphic artist and carnival costume designer. He was a painter, art teacher, stage and lighting designer, illustrator, and composer. He designed the National Flag of Dominica in 1978. He also headed the Department of Culture in Dominica. Bully served as General Manager of the country's national radio station DBS Radio. Bully's contribution to Dominica was endless. His career seems to have no end.
May the legacy of Alwin Bully live on in the hearts and minds of the Dominica nation now and forever more.