Address to the Nation
Prime Minister
The Hon. W. Baldwin Spencer
On the Death
Of the Hon. Charlesworth T. Samuel
Minister of Agriculture, Lands, Marine Resources, and Agro Industries
Fellow Citizens, Residents, and Friends of Antigua and Barbuda: Good Evening.
Antigua and Barbuda is a nation in mourning. We mourn the untimely and tragic passing of Charlesworth Samuel, Minister of Agriculture, Lands, Marine Resources, and Agro-Industries in the government of Antigua and Barbuda.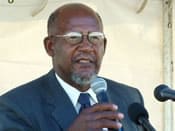 We have lost one of our country's most beloved sons with his passing. – dedicated Charlesworth Samuel's life to serving the people of Antigua and Barbuda. I extend the Government's deepest condolences and the people of Antigua and Barbuda to the members of Charlesworth's family who now grieve the loss of the man they loved, as he loved them. The nation shares its grief. We honor his more than three decades of service in politics, education, and the legal fraternity. Brother Charlesworth was a colleague of mine, but he was a friend; more importantly, he was a father figure to me.
Brother Charlesworth was a tower of strength within the United Progressive Party. He was enemy of none and a friend to all. His quiet disposition and wise counsel were always a stabilizing influence in the UPP and government. At his last Cabinet Meeting on Tuesday, Brother Samuel was an active participant and offered a prayer for our safe journey after the meeting.
I express special thanks to the many Antiguans and Barbudans, including members of the police, the army, and private sector organizations, who answered the call to mobilize in search for Brother Charlesworth when he was reported missing. The Government and the Samuel family are eternally grateful. Brother Charlesworth would want us not to be washed in tears on his passing but for us to be our brothers' keeper and do what is right for Antigua and Barbuda.
That was his life's mission, and as a government, I pledge that we will forever hold this as our guiding philosophy. Last Evening, the Cabinet of Antigua and Barbuda held a special session and has decided that Friday 1st February will commence an Official period of Mourning for the loss of Brother Charlesworth Samuel.
– established a Cabinet select committee to plan the funeral service of Brother Charlesworth Samuel. Minister Jacqui Quinn-Leandro chairs the Committee. It includes Minister Winston Williams, Senator Joanne Massiah, officials within the Protocol Division of the Ministry of Foreign Affairs, and members of the Samuel family. Senator the Hon. Joanne Massiah has also been appointed to act in the interim as Minister of Agriculture, Lands, Marine Resources, and Agro Industries.
From today flags on all government buildings and missions abroad are being flown at half-mast. I urge the business community to extend similar recognition to this revered Antiguan and Barbudan. During Mourning, until the day of the funeral service, we urge members of the Christian community and all Antiguans and Barbudans to pray for our nation and the family of our departed brother. Charlesworth Samuel will rest with a State Funeral at the Antigua Recreation Grounds, an honor he richly merited. Both Houses of Parliament will also meet on the day before the funeral to pay tribute to the man we all loved and respected.
Government considers this a fitting tribute that will be a lasting celebration of the life of Charlesworth Samuel. Charlesworth was a good man. He was a man of grace. He was a God-fearing man. And he was a man of care. May God grant eternal rest unto his soul. I pray God's blessings on his family and the nation of Antigua and Barbuda.