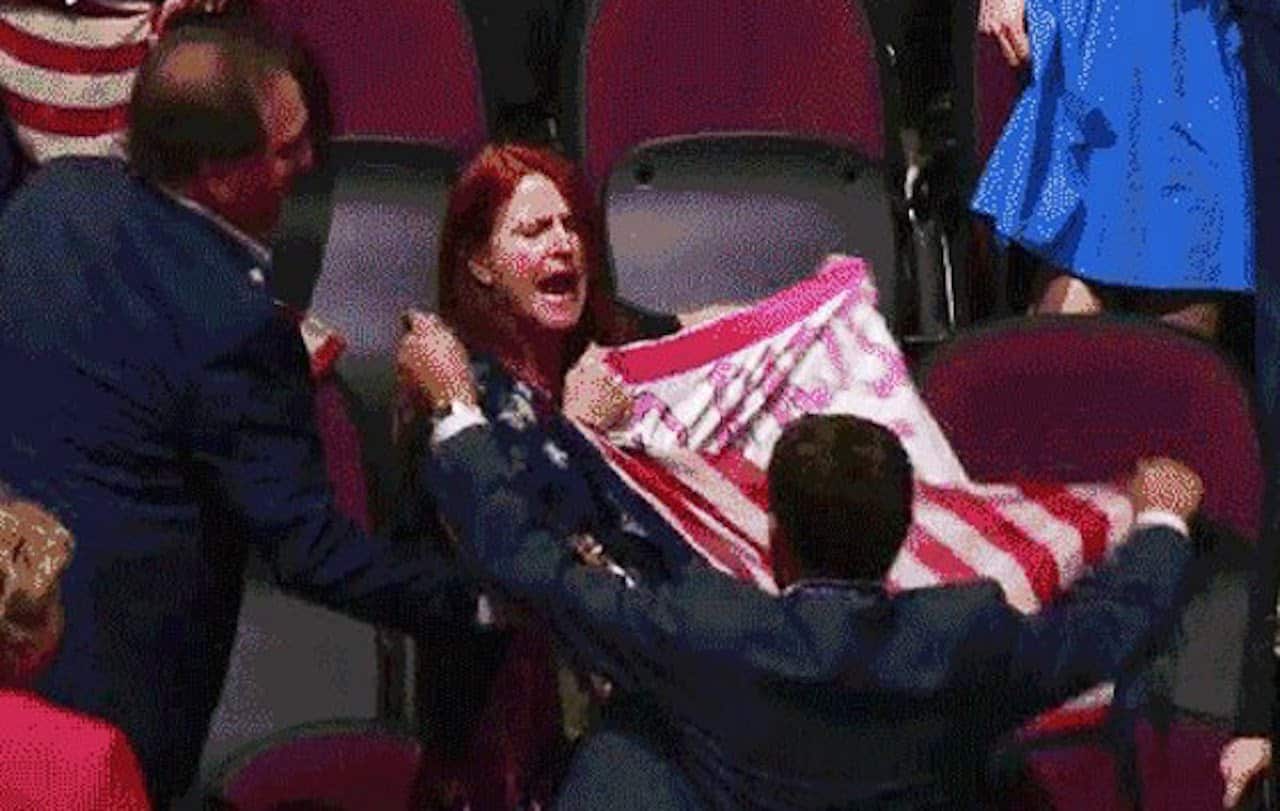 Jodie Evans, a member of the activist group "Code Pink," was holding a peace banner up at the RNC when Trump supporters covered/blocked it with an American flag. Cenk Uygur, Ben Mankiewicz (What The Flick?), John Iadarola (ThinkTank), and Ana Kasparian, hosts of The Young Turks, break it down. Tell us what you think in the comment section below.
"It's not a Donald Trump rally without someone getting tossed out, and Tuesday's vote at the Republican National Convention where Trump received the GOP presidential nomination was no exception.
During a speech by former brain surgeon Ben Carson,Code Pink co-founder Jodie Evans attempted to hold up a "No Racism. No Hatred" sign inside Quicken Loans Arena, only to be swarmed by security and Trump supporters.
Trump supporters were quick to jump in, with one older woman seen attempting to rip it from her hands. Others then surrounded her holding up American flags so that the her message, which they apparently found offensive, was not seen by CSPAN's cameras.
One Trump fan was seen throwing his flag over her face and pulling her head backwards as he attempted to topple her.
Evans was then escorted from the arena by security."*
Read more here:
Hosts: Cenk Uygur, Ben Mankiewicz, John Iadarola, Ana Kasparian
Cast: Cenk Uygur, Ben Mankiewicz, John Iadarola, Ana Kasparian
***
The Largest Online News Show in the World. Hosted by Cenk Uygur and Ana Kasparian. LIVE STREAMING weekdays 6-8pm ET.
Young Turk (n), 1. Young progressive or insurgent member of an institution, movement, or political party. 2. Young person who rebels against authority or societal expectations. (American Heritage Dictionary)
Download audio and video of the full two hour show on-demand + the members-only post game show by becoming a member at . Your membership supports the day to day operations and is vital for our continued success and growth.
Get The Young Turks Mobile App Today!
Download the iOS version here:
Download the Android version here: